Illinois Wesleyan University Production Photos
An incomplete summary of work I did in college: Giant, Where in the World is Frank Sparrow, Fame! The Musical, and The Boys From Syracuse.
an incomplete summary of some work I did in college
illinois wesleyan university
What a rush to be able to be in the First Post-NY staging and Midwest Premiere of this show! This was my first chance to perform in a LaChiusa work. This mammoth of a show (originally a 5 hour for its regional run, and then 3 1/2 hour production during its off-broadway run) which ran for 3 hours, contained over an hour and a half of music alone.
I played Angel Jr/Sr, a Mexican-American who loves his country, is a romantic, and has dreams bigger than reality (just like me)! Angel sings lead to "Jump", a song where he convinces his friends to take the various leaps in their lives--towards their biggest dreams. Angel dreams of joining the military and fighting for the country he loves. He wants to fly. He wants a life beyond his home. He wants to provide for the ones he loves, his family and future wife. I've always been about dreaming big, taking leaps, and pushing forward. Angel Jr and I shared a lot.
I was extremely fortunate to get a chance to work with Evan Kasprzak (Newsies, So You Think You Can Dance). He came in and choreographed to his speciality, stylized/classical Broadway jazz. A big challenge for me in this show was my song, "Jump", also including multiple dance solos. This was my first time with dance solos onstage, and man was I nervous! But with Evan's help and guidance, I felt extremely confident in how the dance turned out, and had the most fun I had ever had during any number! I remember one moment where I had to flip my hat off my head, catch it on my foot, then flip it from my foot back into my hand. I would stand in rehearsal for so long just trying to get that moment perfect!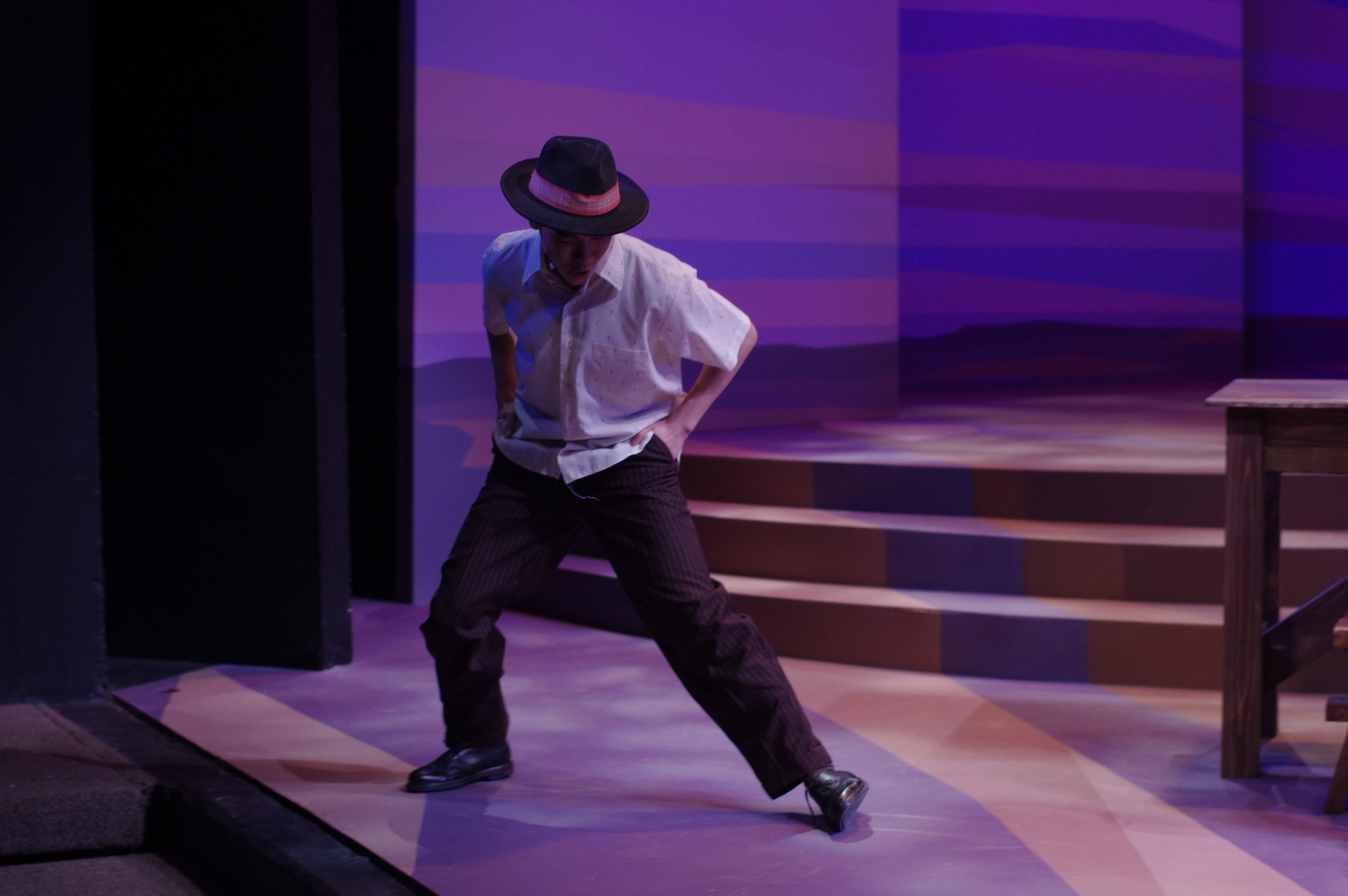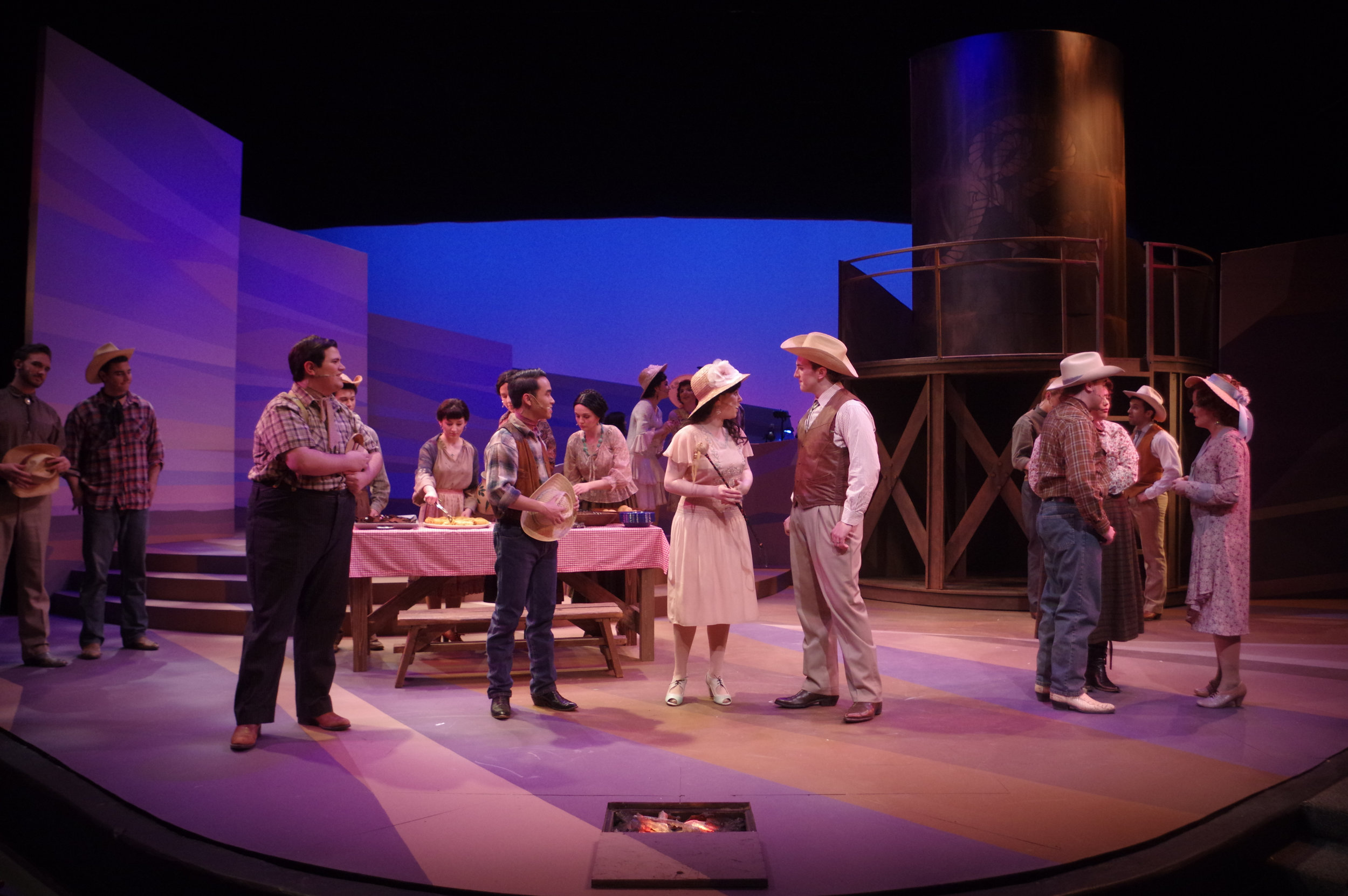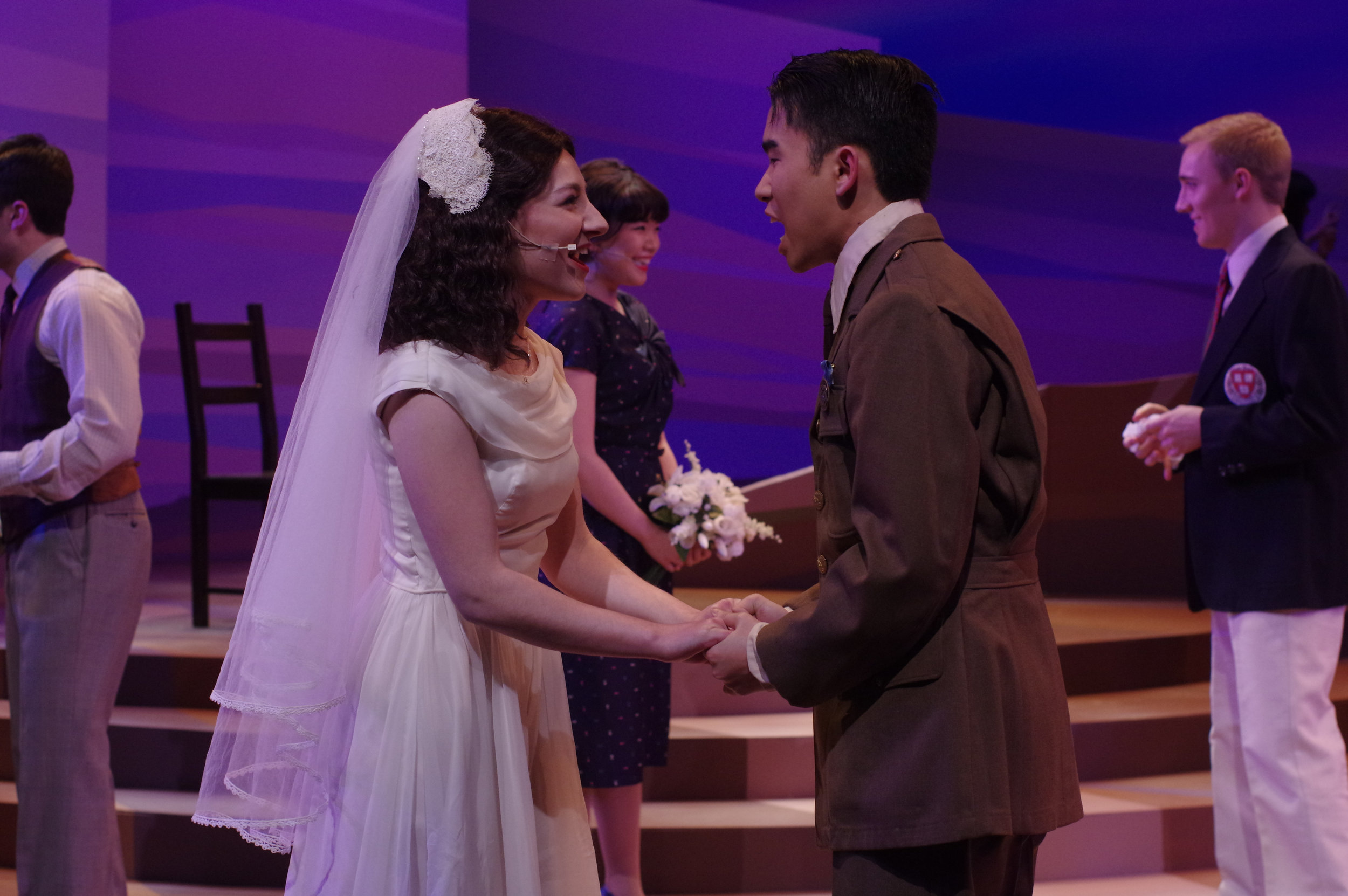 GIANT @ Illinois Wesleyan University
Book: Sybille Pearson
Music & Lyrics: Michael John LaChiusa
Orchestrations: Bruce Coughlin
Additional Orchestrations: Larry Hochman
PRODUCTION:
Director: Scott Susong; Choreographer: Evan Kasprzak; Music Direction: Saundra DeAthos-Meers; Set Designer: Kristen Ellert; Costume Designer: Alexa Weinzierl; Lighting Designer: Jay Ryan; Sound Design: Tobias Peltier; Hair and Wig Design: Megan Runyard; Stage Manager: Kristin Solodar
CAST:
Polo Guerra: Conor Finnerty-Esmonde; Bick Benedict: Danny Adams; Leslie Benedict: Kelsey Bearman; Lupe: Alexa Eldridge; Miguel Obregon: Carlos Medina-Maldonado; Angel Jr/Sr: Kenny Tran; Bobby Dietz Sr/Jr: Eli Miller; Adarene Morley: Emily Hardesty; Luz Benedict: Julia Cicchino; Jett Rink: Evan Dolan; Vashti Hake Snythe: Haley Miller; Bawley Benedict: Steven Czjkowski; Lil' Luz Benedict: LeeAnna Studt; Juana Guerra Benedict: Yuka Sekine
Ensemble: Steven Schur, Libby Zabit, Cadence Lamb, Jeffrey Keller, Evan Rumler, Christopher Long, Timothy Foszcz, Juna Shai, Jaclyn Salgado, Cathy Colburn
"Kenny Tran leads the way in the title role, endearing as the flawed foundling who flinches at his own shadow while he tiptoes through the gritty streets."

- Patricia Stiller (The Pantagraph)
This was my first project as a principal character in college and also the Midwest Premiere. This show was one of the most fulfilling and difficult projects during college.
This show is a TYA set in a post-apocalyptic world, utilizing poetic (Dr. Seuss-esque) language and puppets. This was also my first experience onstage with puppets. I still remember how long it took for us to incorporate those puppets into the show!
Our original director, Dani Snyder-Young unfortunately had to leave the production very early in the process, and we worked with Tom Quinn, as director on the project. One of the challenges was letting go of our vision of the show from our work with Dani, and having the flexibility to work with Tom and his vision and style of the show.
I played Frank Sparrow, and the process of finding out who Frank was, was so extremely difficult. I would sit in the dining hall and labor over the tiny 50-page script for hours! I remember focusing on Laban movement and animal essence to create the physical shape of Frank. He was a sickly and frail person, so I had so much to work with for a physical outline. Myself, I lived heavily in the world of locomotion and weghty-ness. For the show, I focused on lightness and strength (my complete opposites), and because of the cold, I hadused Youtube to research the movement of birds (including sparrows, falcons, crows, and various injured birds for my broken wing). All this accumulated into my Frank Sparrow.
One of the biggest challenges for this show was finding the balance between a fragile and scared boy, and a rebellious, curious man. I learned so much from Frank, and I'll always be grateful for Dani taking a chance on me.


WHERE IN THE WORLD IS FRANK SPARROW? @ Illinois Wesleyan University
By: Angela Betzien
PRODUCTION:
Director: Thomas A. Quinn; Movement Director: Jean Kerr; Scenic Designer: Sydney Achler; Costume Designer: Marcia K. McDonald; Lighting Designer: Nicholas Carlson; Sound Design: AJ Chien; Dramaturg: Forrest Loeffler; Puppet Designer: Brandon Kirkham; Stage Manager: Sunniva Holmund; Asst. Director: Maggie Patchett
CAST:
Frank Sparrow: Kenny Tran; Kira: Debra Madans; Warren: Nick Castellanos; Nyx: Elizabeth Albers; Old Man: Nick Giambrone; Aaron South: Alec Sutton; Patrick 'Pigiron' Kelly: Dean Carlson
Ensemble: Julia Cicchino, Casey Cudmore, Bucky Emmerling, Elizabeth Ferris, Trev Gabel, Jenia Head, Chris Long, Carlos Medina-Maldonado, Caitlin McManus, Yuka Sekine, Kristin Solodar
"Dynamic, nostalgic, poignant and fun, "Fame: The Musical" is a powerhouse that audiences are sure to enjoy, leaving the theater humming the theme song."
- Marcia K. Weiss (The Pantagraph)
So much fun! Our director, Jean Kerr, allowed us a wonderful amount of freedom in creating our characters, and not only that, but she fully respected our choices and relationships that we would build with each other as students at the School of Performing Arts.
My name was Leonard, but that wasn't all. Leonard decided in his sophomore year that the name "Leon" was much cooler and hip. This stuck for about two more years, but that's when I decided that Leon was old already, "Leo" was the new name. I laugh when I think about the journey of my character's name.
Jean, when blocking, would refer to the character names we had created. It sent a fun and great artistic vibe through the cast, that the work we had put in (even the work of naming our characters) with creating our characters and our relationships to each other would not only be present onstage, but featured.
In this show I also had a weeks notice to understudy Goody (an actual principal in the show, not a made up name). I had to switch out his sax with my guitar, and learn his lines & blocking. I performed as Goody for one performance.
The choreography by Sheri Marley was extremely fast-paced and explosive. I love to jump, and I love to pop in my dancing.
From this show, I learned to let loose and to find fun in every scene moment you're onstage. especially in a show like this one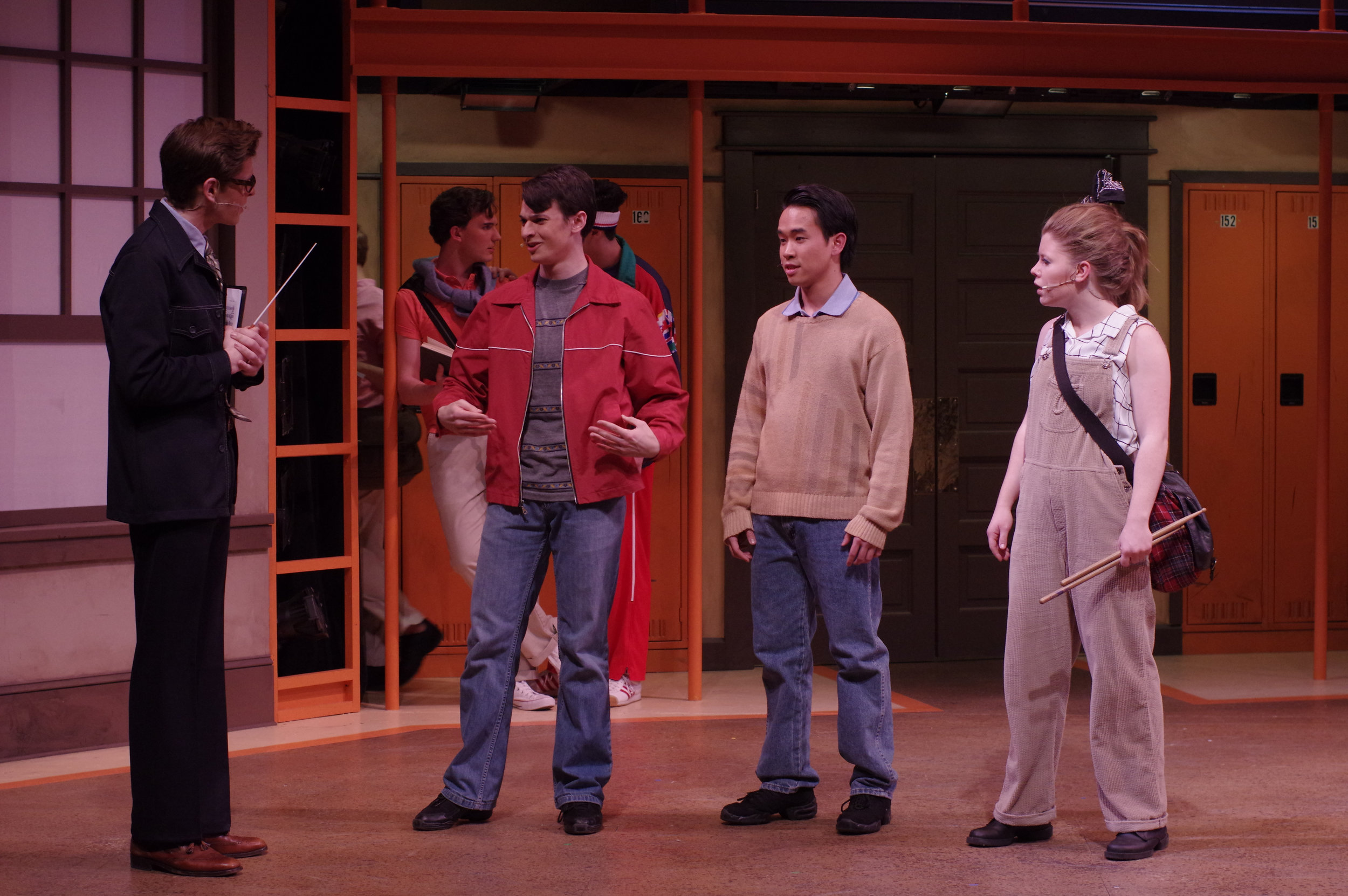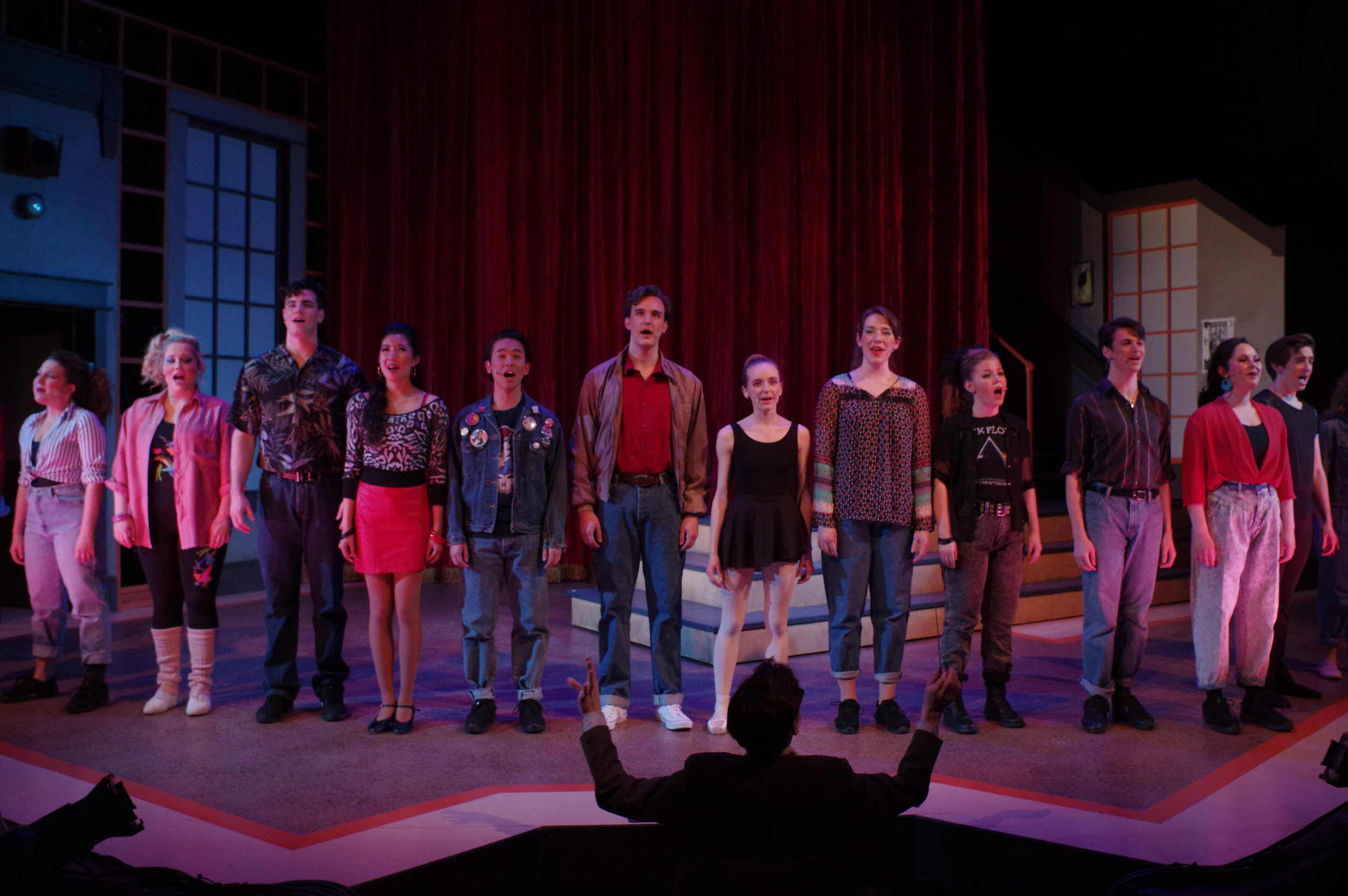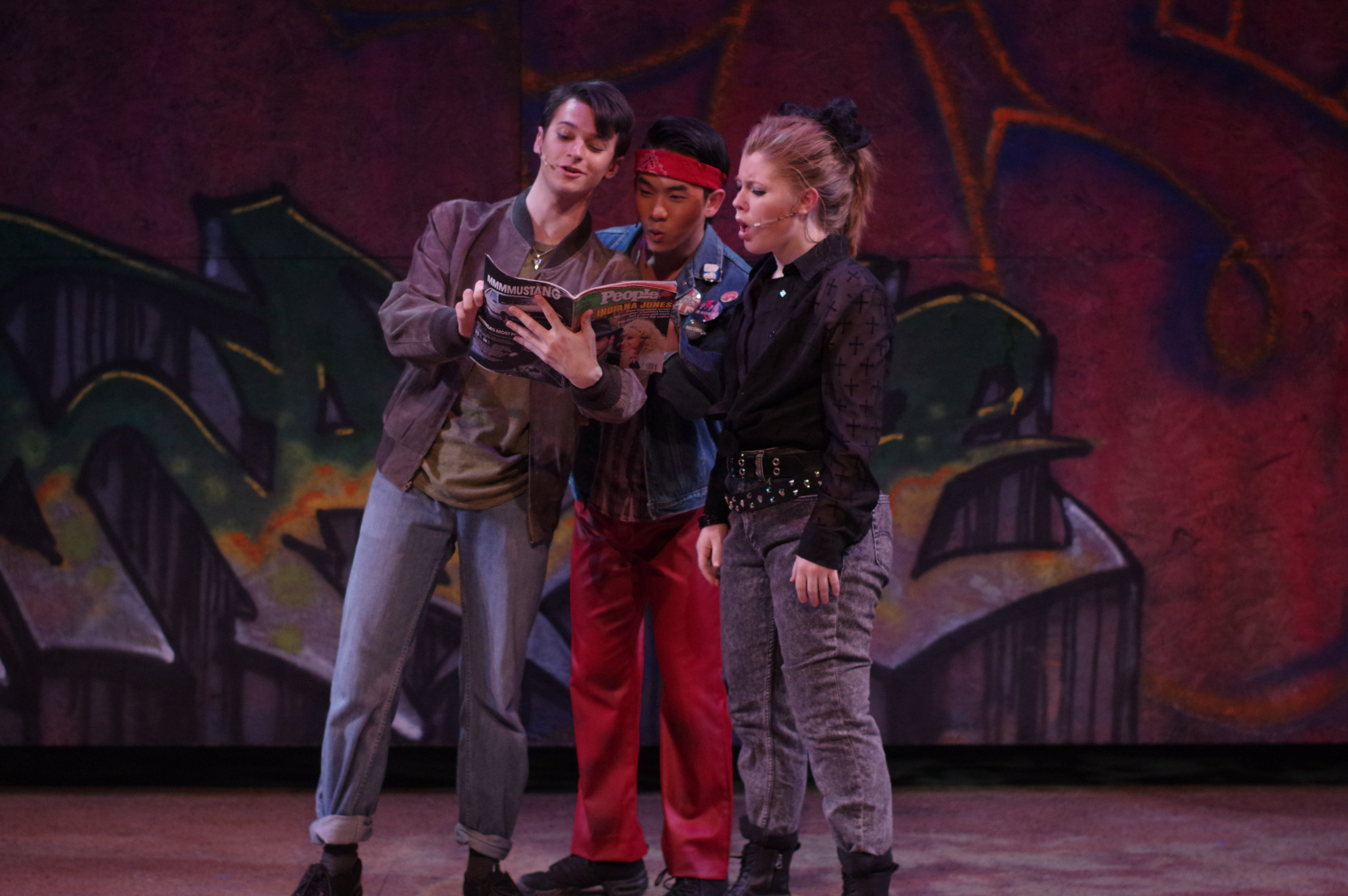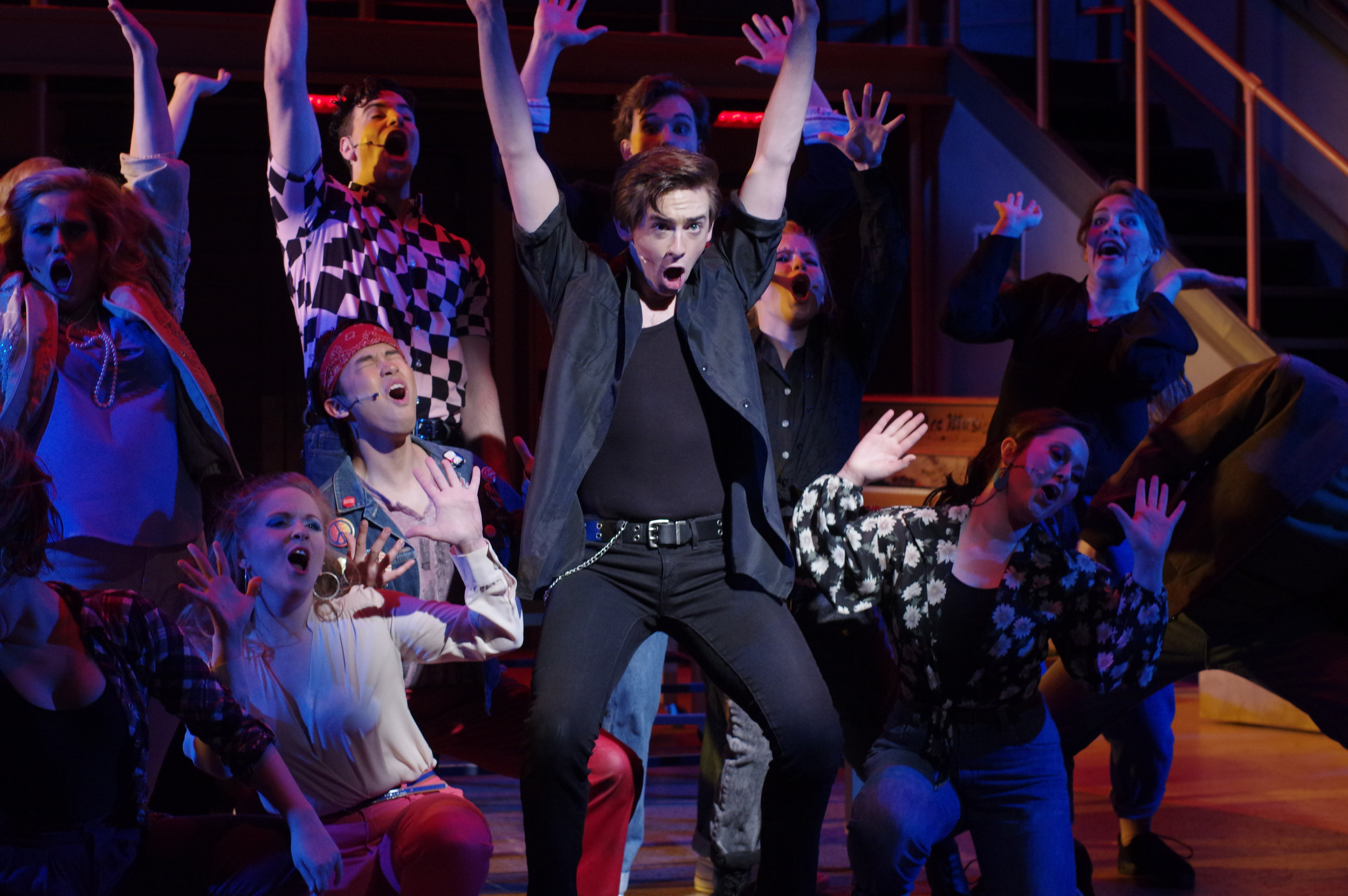 FAME! THE MUSICAL @ Illinois Wesleyan University
Concept: David De Silva
Book: José Fernandez
Music: Steve Margoshes
Lyrics: Jacques Levy
PRODUCTION:
Director: Jean Kerr; Choreographer: Sheri Marley; Music Direction: Natalie Pitchford; Set Designer: Kristen Ellert; Costume Designer: Connor O. Speck; Lighting Designer: Jay Ryan; Sound Design: Carlos Medina Maldonado; Co-Sound Design: Tobias Peltier; Stage Manager: Tess Wisher
CAST:
Nick Piazza: Conor Finnerty-Esmonde; Serena Katz: Emily Hardesty; Joe Valentine: Jeffrey Keller; Jack Zakowski: Evan Dolan; Carmen Deon: Juna Shai; Iris Kelly: Jessica Smith; Mabel Washington: Haley Miller; Schlomo Metzenbaum: Steven Schur; Lambchops: LeeAnna Studt; Goody: Holden Ginn; Ms. Sherman: Jenia Head; Ms. Bell: Erica Werner; Mr. Meyers: Christopher Long; Mr. Sheinkopf: Tim Foszcz; Goody U/S: Kenny Tran
Ensemble: Cadence Lamb, Dana Clouser, Julia Cicchino, Kelsey Bearman, Trev Gabel, Kenny Tran
Ridiculous. That's the one word I would use to describe this show. I've always wanted to be in a farce, and I finally got my chance! In this show, directed by Scott Susong, In this show I learned that, honestly, you can't take yourself too seriously. You have to be willing to look silly, be larger than life, and yet somehow stay grounded. The rub is that you don't know how far you can go until you go there (or past it)!
"Both Dromios, played by Eli Miller and Kenny Tran, are hilarious"

- Marcia K. Weiss (The Pantagraph)
In this production I played Dromio of Ephesus, and I got to play one half of a twin pairing with my actual roommate--Eli Miller, as Dromio of Syracuse. I had a blast not only observing Eli's more obvious mannerisms, but even the mannerisms he didn't realize he was doing. The way he cried, the way he yelled, the way he interacted with his Antipholus were observations I made. I was able to loosely incorporate moments in the show where some of his mannerisms would creep in.
One other unique experience I had with this production, was our switch rehearsal. This was a rehearsal in which the twins (Antipholi and Dromios) switched roles. It was a wreck, and so extremely entertaining. Eli and I would take notes on how the other person would say a line, or interact with a character. I know Eli helped me figure out some moments, and I the same with him. It was nice to let go of any expectations or preconceived notions, or even pressure associated with our characters, and just play!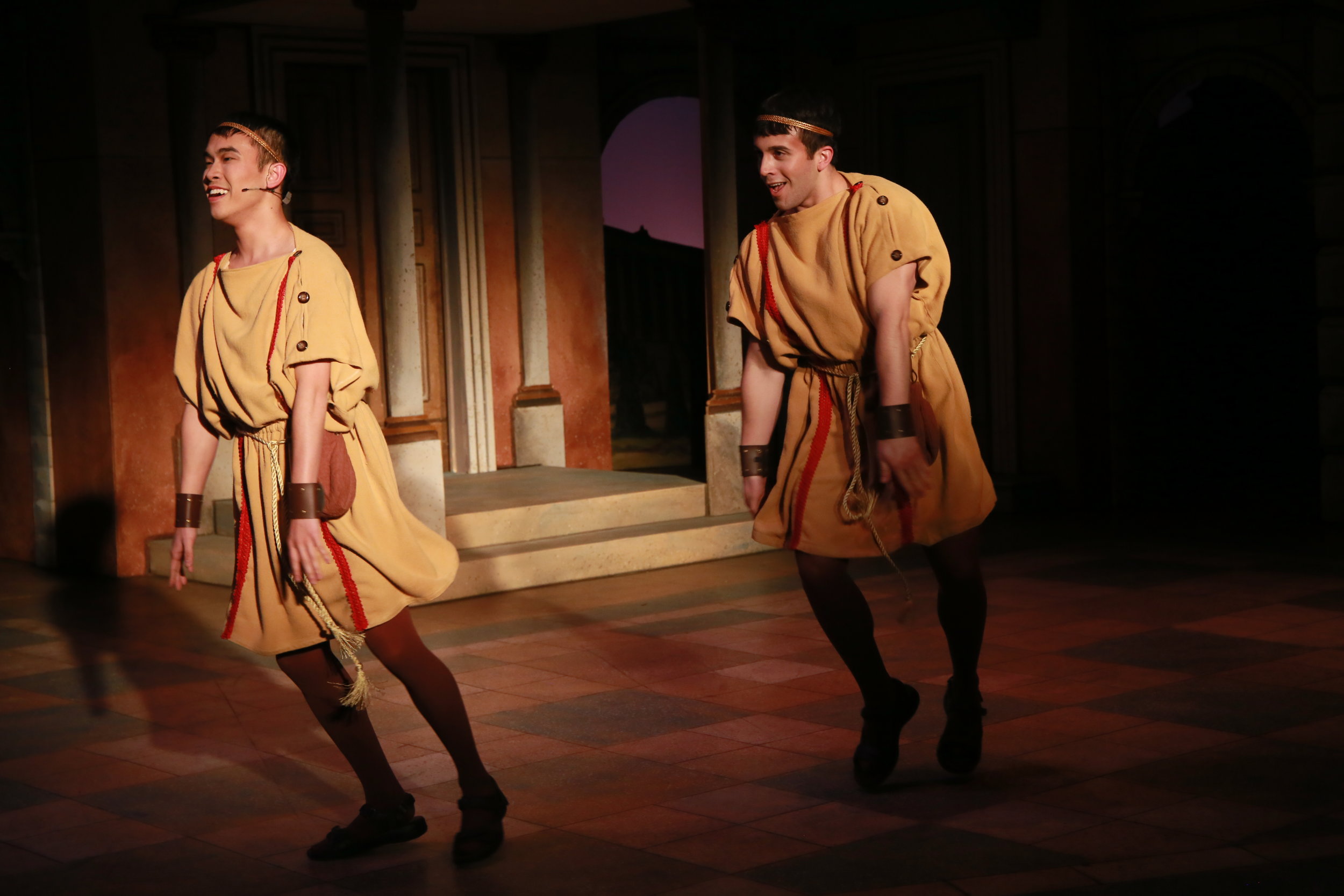 THE BOYS FROM SYRACUSE @ Illinois Wesleyan University
Book: George Abbott
Music: Richard Rodgers
Lyrics: Lorenz Hart
PRODUCTION:
Director: Scott Susong; Choreographer: Jean Kerr; Music Direction: Sandy DeAthos-Meers; Set Designer: Curtis Trout; Costume Designer: Marcia McDonald; Lighting Designer: David Allen Stoughton; Sound Designer: Tobias Peltier; Hair Designer: Kelcie Nutile; Makeup Designer: Hannah Sage; Stage Manager: Sunniva Holmund
CAST:
Seeress: Megan Sperger; Antipholus of Syracuse: Conor Finnerty-Esmonde; Antipholus of Ephesus: Timothy Foszcz; Dromio of Syracuse: Eli Miller; Dromio of Ephesus: Kenny Tran; Adrianna: Jackie Salgado; Luce: Haley Miller; Luciana: Yuka Sekine; Aegean: Trev Gabel; Madame: Jenia Head; Sergeant: Danny Adams; Corporal: Steven Schur; Duke of Ephesus: Dean Carlson
Ensemble: Isaiah Rosales, Jace LeGarde, Robert Avery Wilson, Tuxford Turner, Dana Clouser, Juna Shai, Kamilah Lay, Maddie Steele, Kara Ryan, Catherine Mojsiewicz, LeeAnna Studt, Joanna Dooley, Jessica McGrew